abaan ali
| April 12th, 2011
"Blurring the Boundaries Between Art and Architecture and Bridging the Gap with Digital Design"
Eric Höweler | Biographic Overview
Eric Höweler (b. Cali, Colombia) received his degrees, Bachelor of Architecture and a Masters of Architecture, from Cornell University. He is a principal of Höweler + Yoon Architecture along with Co-Founder and wife Meejin Yoon. HYA is a multidisciplinary practice working between architecture, art and media. He is currently a Design Critic at the Harvard Graduate School of Design and has previously taught at City College of New York.
Eric Höweler | Major Works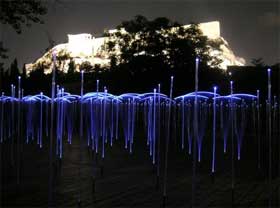 A.A. | How did you know the time was right to leave KPF & DS+R
E.H. | Well, I think everyone should work for a great firm at some point. Students sometimes ask me should I work for this firm or that firm or, you know, this one pays more but this one's more interesting and I always tell them to go for the more interesting firm. You aren't in architecture to make money, presumably, because there is no money to be made so that would encourage people to look for the most interesting opportunities. I worked a long time in KPF and then I worked a few years at DS+R. They were incredible experiences. You learn in school, you learn in firms, and you learn your whole life. It sounds cliché but you keep learning. I think it's good to be exposed to firms like that which have really intense environments with really smart people. It sounds dumb but I would surround yourself with as many smart people as you can! That's a good policy. I enjoyed those two firms. I learned a lot and they were fantastic places to be trained. When you graduate you still need to be trained as an architect and you want to be trained in the best place possible. Like if you think about the Julliard School of Music and you're a violinist you train at the Julliard School. You also train at offices as an architect. So how do you know when to leave? Um, you don't. It's risky. If you resign that's a big risk. It's better to resign than get laid-off. If you resign then hopefully you have something else to do. In our case, we had a commission to build. So, I thought I wanted to transition from practice to building my own firm, and I also got a teaching job. I was always interested in teaching. Coming out of 11- 12 years practicing, I thought now was the time where I can start teaching. So teaching and starting my own practice were the main transitions. There's a moment where you have to jump and it's risky but everyone has to do it at some point.
A.A. | In your 2007 Emerging Voices Lecture Series; you gave a statement regarding architecture and theatrical effects. What did you mean when you said "Architecture is a means of producing theatrical effects?"
E.H. | Well, I don't remember saying that but it sounds good. You can argue that architecture is about tectonics. You can say it's a didactic tool, it's about expressing forces, and it's about making visible those forces to the general public. Tectonics is about a representational tool. It represents the way construction happens. I think great architecture can convey meaning in addition to simply do what it does. On the other hand, you can also argue that architecture is not just about the correctness of assembly. I think some of the most interesting architecture breaks some rules or maybe is assembled incorrectly. This building (Hinman) seems like it has some qualities of non-normative construction, and those things, I think, spark a little bit of thought. They sort of ask us to say is this hanging, is it standing, and how does it work. Sometimes architecture produces effects like suspension and vertigo, and those are moments that are pretty exciting. A great example is a Gothic cathedral which looks impossibly high and impossibly thin. You can argue the light coming through it  is a special effects machine. You could think about architecture as a church where there is a type of motive and it is a kind of theater. It's about conversion. It's about belief and getting people to invest in an idea. Architecture can be mobilized to help reinforce a particular project, local, religious, and so on. I think some of things that we've been doing with electronics and behavior tries to play on that spectacle or that type of theatricality. I don't think we do it all the time, but I think some of the work aspires to surprise or maybe a type of pleasure in the discovery of a detail. So I will say it can work that way. Sometimes great architecture does that but might be an aspiration for architecture to shock you. I think that is a good ambition for architecture.
A.A. | Do you think those theatrical effects are created on purpose or is there a reasoning behind it?
E.H. | I think it's great that we're in this space (Hinman Crow's Nest) because there are pretty good effects going on here, and I think that they're usually pretty deliberate.  Say for instance, it would look right if it looks like this, but I'm going to do it like this and you sort of switch it around. It produces a kind of surprise. I think it's typically intended; although, not always. I'm sure they're plenty of examples of vernacular theatrical effects, but I think sometimes we appreciate the intent. When you look at a great detail you're like, "Hmm, these guys are really messing with us." They sort of play the game here. They're thwarting our expectations. That's when I think architecture can become much more didactic. It can become a tool, an instrument, a thought-provoker. That's one of the functions of architecture.
A.A. | How does your approach to installation work differ from your larger-scale projects?
E.H. | That's a good question. I think some firms have a project that is visible in every project. There is an issue or geometry, a kind of technique, that's applied at different scales, in different context, in different sites again and again. You can argue that some architects are working on the same projects their whole life. I feel like we don't have that continuity. We are not that consistent. Every project is an opportunity to learn something or to test something. Sometimes it's a form project; sometimes it's a material research project; sometimes it's a social-context project. Sometimes we wish we had more continuity, but we're not that organized. I feel like we're more curious. We'll find something interesting in every project.  If someone asks us to design a book, we'd think, "That would be so interesting! Let's take a look at that." If someone asks us to design a chair it would be a different set of issues. So every project brings its own set of issues. I think it's much more situational for us. For example, in respect to the installations, there are opportunities that are available to a temporary installation that are not available to a full-fledged building. Somehow we long for a convergence between the interactive installations and permanent architecture. We have been looking for that moment where these two trajectories are going to converge. Maybe it will and maybe it won't. I do think every project brings its own issues. So a building may have a budget for the kind of simplistic architecture; typically, interactivity falls outside of that scope. We can push to have it looked at integrated, but there are a few opportunities for that to happen. We're still hoping to find that project. I would say each one is situational and if the situation arises that would be great, but I wouldn't force them all to be about interaction. I wouldn't force them all to be about a particular geometry or particular technique. I think we like to be a little more open-ended than that.
A.A. | So, you would say that user-interaction is a by-product of the design or do you think that user-interaction needs to have a deliberate thought process in regard to your installation?
E.H. | I think when we think about a space, situation, or opportunity we're like how are we going to react to that. What type of action can we provoke? If you're walking down the street and you saw something. You went up to. It was curious.  You sat down on it. It reacted to you. You reacted to it. You reacted to the guy sitting next to you. In the public realm those type of protocols, or social behaviors, are to some extent scripted. What you do on the bus or in an elevator is different from what you do in your home. We like to think about what opportunities are available on the sidewalks that aren't available in your home or in a church. So again it's kind of situational, but we would like to think that some of those things could be anticipated and that architecture might provoke reactions. It doesn't have to be electronic. I think this type of suspension (Hinman's Crow's Nest) could produce a sense of vertigo, and that might be totally immaterial. It's not about an electronic reaction. So, I don't want to be prejudice towards electronics. It seems more dynamic that architecture promotes reactions too.  A Gothic cathedral may make you cry just by looking at the way light plays with the space. It's about anticipating behavior, anticipating perception, and anticipating reaction from the crowd. I guess if you're talking about theater it's all about judging the audience. The "liveness" of the theater amounts to measuring your performance against the audience's reaction to it, and we think that is a valid way of thinking about architecture too. Maybe we can calibrate the architecture to the audiences or  produce reactions and social interaction. For example, by making everyone take one stair that might be the type of mixing chamber which makes everyone go for that stair and finds themselves on it or finds themselves on display when they come downstairs. I think simple moves like that have consequence. I think anticipating some of those consequences might help you when you design.
A.A. | What influenced you most in your education, and was there a class or professor that influenced your architectural perception?
E.H. | I went to Cornell where I received a real good education. I also went there for graduate school so I stayed in one place. I think it was a great education but it doesn't stop when you graduate. That's the thing; you sort of go out in the world and discover what you thought you knew you didn't really know. Being open-minded enough to accept new stimulus and new ideas is important. There was a moment where we were learning by making which is a mode of learning or way of thinking. At a certain point, I discovered theory and it sounds like a cliché but I thought how does theory compliment a productive mode? In a way, I feel that there is a kind of intuitive way of working that is better off without theory. It just sort of "does" and it doesn't think too hard. Then there is a mode of theory that it cannot make. It's paralyzing. I think you have to go through that to get at the other end when you make things and still be happy with yourself. There's a moment where it's like everything I do is somehow pragmatic. I think that sort of stoppage is something that happens when you're reading too much theory. I had a great education, but there were times where I had little "Eureka!" moments. I took a semester off. I was working in a different city, reading different books, meeting different people, and that creates a big shift. I would recommend to people in addition to working with the smartest and most talented people that you also change you context. Go out and do something unusual. I had a very modernist education. I spent a semester working for a post-modernist architect. It was so strange, different, and weird to the point where we had a model with mushrooms in it. It actually came to form a really weird daycare center with mushrooms in it, and I thought I want to work for this guy. I sought out something completely opposite than what I was training to do and it became pretty useful.
A.A. | So, was there ever one definitive professor that influenced the way you work?
E.H. | There a lot of professors. You know, someone at some point whispered in my ear, "You got to read about Adolf Loos!" and I was like, "Who's this guy?" Another guy said that I had to read this magazine called the "Assemblage". I was in Ithaca which was in upstate New York and at the time getting books and getting magazine was not easy and there was no internet. So we had to find those issues, and we passed them around. I think someone who points you in the right direction or hands you a book to read it could open up the whole world and it is so easy to do all you have to say is "Hey, read that book!" It doesn't cost them anything but it changes someone's life. Surrounding yourself with people that are a little bit unusual is important. They have these different insights they can offer you and different perspectives that they can funnel to you as well. I'm not going to name, names though.
A.A. | Ha, that's fine! A follow-up question to that would be what is your perspective on the state of architecture today?
E.H. | That's a big one. Tonight I'm going to show some work, but I am also going to take the temperature of age by talking about certain moments of the contemporary. One of the things that we are doing as a small practice is speculating about the present moment. There are obviously certain trends that we see, certain things that we are referencing, and certain technologies that we are using. So, I'm going to talk about some of these trends. Some of them have to do the combining concepts. For example, one of these concepts uses Simplicity + Complexity = Simplexity. What is it about rule-based design today that tries to find ways of aggregating simple concepts to produce apparent complexity? I think that is something a lot of people are interested in and something that is enabled by the computer. Computational design is not something we're experts in but it's something we're interested in and some of our projects deal with that. Other issues that we see today that are interesting are material versus immaterial. What was it about tectonics today as opposed to when Louis Kahn was talking about bricks and what are the opportunities to think about tectonics? What is it about the essential versus the ornamental and what the kind of return to ornament that we've seen? Those are some themes that we've seen and a lot of that has to do with technology and what's available today that wasn't available before. There have also been shifts in the way people think about design especially large cultural shifts. Architecture has probably never been as multiple as it is today. There is no agreement and no coherence in the discipline. There are multiple voices and maybe it never was supposed to be. Maybe that's the other myth. It was never a kind of singular modernism or dominant post-modernism. These were modes. Right now, there is an incredible multiplicity of ideas. A lot of interest in computation and digital fabrication but I don't think there is a singular dominant mode. As architects working in the present it's everyone's responsibility to try to take the temperature of the age and somehow respond to it. How do you as an architect take all this input and do your work? How do you anticipate an audience to be receptive to that work? I was thinking about obsolescence and the fact that so much of what we do is guaranteed to become obsolete within a couple of years. We think we are doing cutting-edge work, but we are in a moment and it will become obsolete quickly. So how do we work with that anticipation of inevitable obsolescence?  You can be timely, or at best you can be timely. I think it's a myth to think that you can be timeless. The best that you can do is to try to measure the moment and react to it and push it forward. That should be everyone's charge which is to contribute to this larger project of the contemporary. I think there are multiple forces and one of those characteristics is multiplicity and acceleration. In general, this kind of velocity at which culture is moving is not just architecture but looking at culture through a wider lens.  I would say those are some primary symptoms of the present moment. We try to work within those modes by reinforcing, amplifying, and channeling them in the work. I was talking to Meejin (co-founder of Howeler + Yoon Architecture) about the avant-garde. Do we believe in the avant-garde as a kind of revolutionary force? Probably not. We don't have the delusions of grandeur like a Marinetti, who we admire. On the other hand, we do feel that there are forces that are driving cultures forward, and we never had as many means available to us to build, to broadcast, to make, and to dialogue. Everyone can blog and everyone can make publicity. So there has never been as much of a proliferation of channels. There more channels than ever before. How do you work within those channels? How do you cultivate an audience? How do you build alliances and networks? Those are important questions. Now more than ever I think at a certain point you thought as long as I do good work people will notice me. You can't just sit in a log cabin and do great architecture. You have to engage in a social disciplinary conversation.
[
abaan ali
,
architecture
,
COA Lecture Series
,
College of Architecture
,
Culture
,
design and philosophy
,
Eric Höweler
,
Höweler + Yoon Architecture
,
interview
,
Meejin Yoon
,
School of Architecture
]
---